I LOVE the meals that leave me with a container full of leftovers! Since I don't always make the time on Sundays to prep for the week, my prep still gets accomplished with leftovers from meals throughout the week!
My love of leftovers continues to grow because…
1. They provide easy lunches for the week ahead.2. No wasting food here!3. Sometimes leftovers are even better because the flavors have had more time to blend.4. Almost every time I have leftovers to use up, I discover a new meal or spice or texture or method!5. It's a fun challenge to see how I can transform them into a completely new meal!
Recently, I made spaghetti squash with marinara sauce and lentil meatballs, which was awesomely delicious! I purposely set a side just a small portion of the squash because the word on the street was that you can make them into hash browns – or squashbrowns! I love hash browns, but I'm always looking for a way to bump up the nutrients in every meal. This was my ticket for breakfast the next morning!
If you haven't tried Spaghetti Squash yet, add it to your list! My friend, Tolz, who was in culinary school a few years back brought me a spaghetti squash and said, "Just try it." We made it the same way – with marinara – and ended up really liking it. It's a great gluten-free, nutrient rich alternative to pasta.
Here's the lowdown:
· Spaghetti Squash is high in
Vitamin C
, which boosts your immune system and is an antioxidant working to clean house inside your body.
·
Vitamin B-6
is "involved in over 100 enzymatic reactions that take place in your body, including energetic metabolism," according to
www.livestrong.com
.
· Every single mineral is found in spaghetti squash, including the key player,
Potassium
, which builds muscles, acts as an electrolyte and regulates your body's acidity.
How to Roast Spaghetti Squash
To cook the squash, cut it in half and scoop out the seeds. Then put it cut side down on a sheet pan or shallow baking dish. I like to put a little water in the pan to keep it moist. Cook at 400 degrees for about 45 minutes. Then, use a fork to "pull" the spaghetti strands.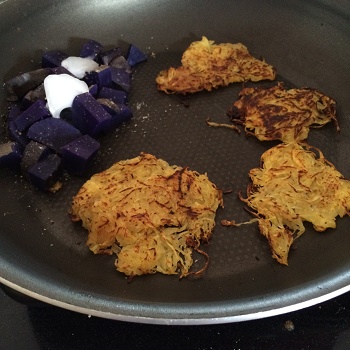 SqUaShBrOwNs!Step 1
Preheat the sauté pan. Add coconut oil.
Step 2
Form the squash into a patty. This is a delicate process. The more you mess with it and try to make it perfect, the more frustrated you'll get! Try just grabbing the squash with your fingers and making a little pile in the pan, then flatten out a little.
Step 3
Let it sit until the bottom is brown and crisped. Then gingerly flip.
Step 4
Cook the second side until it's brown and crispy. Move to a plate with a paper towel to drain any excess oil.
Try it with ketchup, pesto, sriracha sauce, salsa or even some leftover marinara!