There are so many different facets to food. Cooking it, eating it, shopping for it, growing it...and preserving it. This week I learned a little bit about food waste and wanted to share it with you.
Did you know:
There is an estimated 70 billion pounds of food waste in America each year?
An estimated 25 – 40% of food grown, processed and transported in the US will never be consumed?
When food is disposed in a landfill it rots and becomes a significant source of methane - a potent greenhouse gas with 21 times the global warming potential of carbon dioxide?
There are nearly 42 million people in the United States who feel the effects of food insecurity?
It absolutely kills me when I have to throw food away! I try my hardest to find ways to keep food from going bad, or to catch it before it does go bad.
This morning, I saved a giant bag of power greens from being thrown out.
In my own little world,
I am a hero
;)
I noticed the greens getting a little slimy on some of their edges, so I made a mental note to get them blended up ASAP. A few days later, I made it happen while I was making dinner (I was in the kitchen anyways, might as well multitask!).
I blended the power greens with water and froze them in muffin tins. The next day, I ran hot water over the back of the muffin tin to release the frozen greens from the muffin tin.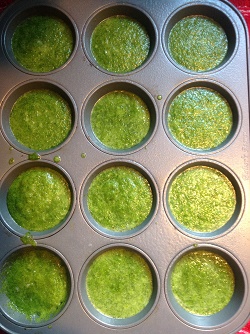 Now, I'll be able to use them in the coming months by throwing them in smoothies, soups, sauces, and even muffin recipes! Not only did I avoid wasting a giant bag of greens, but I'll be able to add nutrients to all sorts of recipes. I'm so glad I caught the greens in that giant bag before they got all yellow, bitter and slimy.
You can be a hero, too!! Here's some other ways to save your produce from going to waste:
Your freezer is your best friend. You can chop and freeze, roast or parboil and freeze or blend and freeze.
Random Acts of Kindness. Make a double batch of your favorite soup or lasagna to save your produce from the trash. Then, give one batch to your friend, neighbor or someone you know that is having a hard time!
If you know you're not going to have a chance to use them, take them to work and ask a co-worker, friend or neighbor if they could use them right away.
You could even put your produce in your car and see if a homeless person would want them.
Use bruised or soft produce in smoothies or soups.
We're all in this together!
Let's try to cut down food waste little by little.
*statistics in this article from www.feedingamerica.org