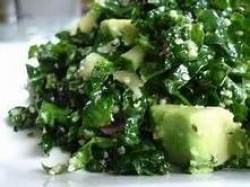 Clean a bunch of kale from the tough stalks and rip into small bite-size pieces. Squeeze half a lemon and half an avocado into the bowl of kale. Sprinkle a pinch of Himalayan salt or celtic sea salt into the bowl. Using your hands, massage the kale mixture until all ingredients are incorporated. There will be small chunks of avocado. Sprinkle with hemp and sunflower seeds. DONE! You can also add cucumbers and/or tomatoes, but it's just as good to keep it simple.
This is such an easy and awesome salad to add to your weekly rotation. You'll be surprised how the lemon and avocado transform the bitterness to a sweetness!
Kale is a detox powerhouse for a number of reasons, including:
- "Kale is a member of the brassica family of vegetables which contain substances called glucosinolates which help to stimulate the liver detox enzymes." (www.thedetoxspecialist.com)
- Kale contains iron, vitamin K, fiber and antioxidants
- Rich in carotenoids and Chloryphyll, which are anti-cancer agents
Avocados are another fantastic ingredient to add to your diet during a detox because it is a healthy fat. The avocado helps your gallbladder release bile, which in turn eliminates toxins. At that point, your gallbladder is better able to absorb essential vitamins and minerals.
Lemon will be the star of your detox showdown! Lemon has loads of vitamins, but more importantly is able to balance the pH of your body so that it is alkaline instead of acid. When your body's pH is less acidic it becomes more able to release toxins.
Just this one salad can make a big detox difference in your diet. Add it to your weekly rotation of dinners, and your body will thank you!